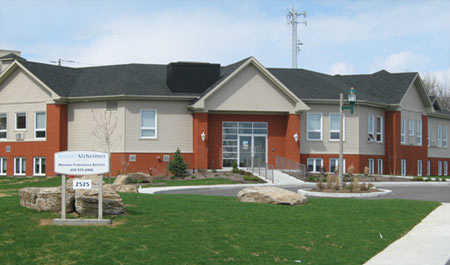 Long term care and respite care
The permanent or temporary residents live in a warm, stimulating and safe environment, which helps them keep their abilities as long as possible and maintain their self-esteem through participation in a community life that resembles family life.

We offer to all Laval residents suffering from Alzheimer's disease, an alternative residential type, different in its approach as it is inspired by the Carpe Diem philosophy. This approach proposes to look at the person suffering from Alzheimer, not as the sum of its deficits and losses, but as a whole person with a history, with strengths and resources, who maintains a loving bond with his entourage and for whom life is an opportunity for continuous stimulation.
Long term care
Terms of admission:
Our residence welcomes people in moderate stages of Alzheimer's disease who are no longer able to live at home due to their illness.

Admission requests must be sent to the Centre for Health and Social Services of Laval (CSSS) through the designated social worker of your area. Priority is given to Laval residents.
Respite care
We understand that it is difficult to live with a loved one suffering from Alzheimer's disease. Fatigue, and stress make it necessary and beneficial to have respite. We offer the opportunity to families to entrust us with their loved one suffering from Alzheimer's disease for a few days or weeks, time to take a break.
Accommodation services
Ten private rooms for permanent residents and two private rooms for temporary accommodation;
We provide ongoing care and support for daily living activities (DLA), household activities (DHA) and recreational activities (DRA);